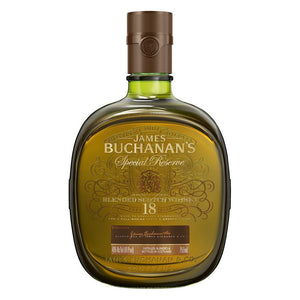 James Buchanan's Special Reserve 18 year Blended Scotch Whisky 750mL
Born from over a century of experience, the well-rounded character of Buchanan's Special Reserve Blended Scotch Whisky features a deep assortment of flavors and a complex finish. With notes of dark chocolate, caramel and honey, our 86 proof special reserve combines a blend of grain whiskies and single malts guaranteed to heighten any celebration. Voted Best Blended Scotch 16 Years and Older at the 2017 San Francisco World Spirits Competition, our whisky is an icon of excellence among Scotch connoisseurs. This masterfully crafted recipe has been aged for 18 years in ex-sherry oak barrels to create a deeper tone and stronger character, making it perfect to sip on its own. Simply serve neat or on the rocks with a glass of iced water on the side. Includes one 86 proof 750ml bottle of Special Reserve Blended Scotch Whisky. 
The finest whiskeys have been combined in a unique and one of a kind way to create Buchanan's 18 Year Special Reserve Scotch. When you first pour yourself a glass of this delectable scotch, you will immediately notice the rich amber hue that will make your mouth water.
Once you bring the glass to your lips and take a sip, you will enjoy the sweet tastes of plums and oranges. Along with the delicious notes of honey and walnuts, this well-rounded scotch will be one you want to savor.
The finishing notes are a banana-nut flavor that will saturate and dance on your palate.
This deluxe 18 year old scotch has full rich flavors that are followed by a full bodied palate and a rich smooth finish.
"Best Blended Scotch Whisky. 95 Points. Chairman's Trophy (Extraordinary; Ultimate Recommendation). Lovely." — 2012 Ultimate Spirits Challenge
UPC/SKU: 088110955342