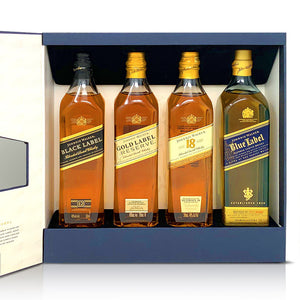 This Johnnie Walker Sample Pack Includes One Each of The Four 200mL Bottles:
Johnnie Walker Black Label – The Original Walker Whisky – Aged 12 Years and a rock solid blend.
Johnnie Walker Gold Label Reserve – A multi-layered blend, it offers a smooth balance of sweet fruits and creaminess that evolves into deeper honeyed tones before finishing in lingering waves of wood, fruit, and light, sweet west coast smoke.
Johnnie Walker 18 Year Old – A complex, luxurious blend harboring deep layers of flavor that perfectly balance the diverse character of the distilleries from which it came and the wood in which it has rested.
Johnnie Walker Blue Label – An exquisite blend made from some of Scotland's rarest and most exceptional Scotch Whiskies.
UPC/SKU:   088076183124