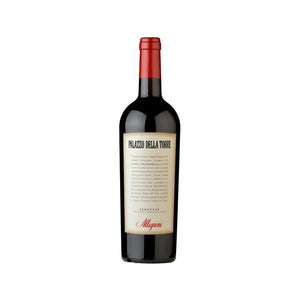 Allegrini Palazzo Delle Torre Rosso Veronese 2017 750mL                   JS93-James Suckling,   WS90-Wine Spectator,  WE90-Wine Enthusiast
This wine is elegant and well balanced, with a good structure and aroma. Ruby red in color with purple hues, it offers light hints of raisins, sophisticated notes of vanilla, black pepper, cloves and cinnamon. It has a long, velvety finish and soft tannins.
Palazzo della Torre easily pairs with various Italian dishes, above all risottos, especially those flavoured with saffron, porcini mushrooms and pork; classic dishes such as pasta with Amatriciana and Carbonara sauces, baked lasagna, gnocchi with gorgonzola cheese and walnuts; grilled meats and roasts. It also excels when matched with Parma ham and fine-cured Zibello pork loin, as well as medium-matured cheeses, especially Parmigiano Reggiano (Parmesan), pecorino and Monte Veronese.
What a beautiful red with lots of rich, ripe fruit, showing blackberry, walnut, dried,-fruit, fig and black-truffle aromas and flavors. It's full-bodied, layered and chewy but ever so well crafted and polished. Drinkable now, but better in two years.
This well-balanced red is medium-bodied and fresh, with citrus peel acidity, offering a pleasing range of crushed black cherry and spicy mineral notes, with delicate hints of black licorice and thyme. Light, dusty tannins firm the finish. Corvina, Corvinone, Rondinella and Sangiovese.
Aromas of ripe dark-skinned fruit, camphor and crushed herb form the nose of this blend of Corvina, Corvinone, Rondinella and Sangiovese. On the taut, medium-bodied palate, firm, fine-grained tannins accompany raisin, prune and licorice.
UPC/SKU:   812643020006