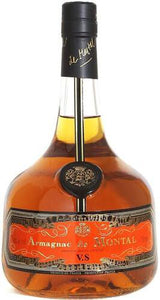 Armagnac de Montal V.S. 750mL
The delicacy of the aroma of this young Armagnac is exceptional. Its deep yellow color is characteristic of its young age and the strength of its character.
Size: 750ML
Proof: 80 (40% ABV)
Origin: France
Distillery: Compagnie des Produits de Gascogne
Armagnac de Montal, 1960 - vintage armagnac, '54 in oak barrels. Mild and humid climate of the region Bas-Armagnac facilitates timely maturation of the grapes, and the rich silicon and clay soils give the Armagnac lightness and delicate fruit aroma shades. The aging of Armagnac in the company Montal is held in the ancient cellars owned Chateau de Retor. According to the technology, the distillation of Armagnac is placed in a huge 400-liter drums, which were specially made of white oak, which grows in the forests of Le Monlezon and Fresh. In the process of aging Armagnac incorporates wood tannins and oak aroma and color, becomes intense, rich bouquet with tones of prunes and coffee and soft, buttery flavor complex.
De Montal VS Armagnac Liqueur Tasting Notes
Nose: In the deep flavor of Armagnac, drop hints of prunes, raisins, cherries. Gourmet trail woven shades of coffee and coconut nuances.
Palate: Rich and complex, filled with notes of ripe fruit, pears, dried fruit and caramel accents. The finish is long and intense, with notes of chocolate, spice and roasted almonds.
Finish: Aftertaste is one-dimensional.
Distillery Information
Trademarks "De Montal" owned by Compagnie des Produits de Gascogne, founded in 1981. His task of management of the company vidt poplulyarizatsiyu and dissemination of traditional for the region Armagnac drinks not only in France but also far beyond its borders.
UPC/SKU:  089105710649