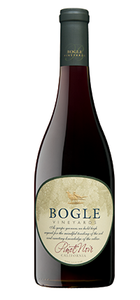 Bogle Vineyards Pinot Noir 750mL
Bogle winemakers have sourced fruit from the best growing regions in California for the varietal. The terroirs of the cool Russian River Valley, coastal Monterey hills and the unique Clarksburg Delta all grow fruit of character and distinction. Combined, the resulting wine is an elegant, classic Pinot Noir.
Heady scents of ripe summer strawberries make a lovely first impression, while hints of crushed violets and sweet dried herbs resonate on the nose. Refined and nuanced, the mouthfeel softens as layers of cherry fruit are wrapped in a comforting blanket of pipe tobacco and worn leather. The firm, yet lingering finish is perfectly balanced with touches of baking spices, fragrant fruit and earth tones.
UPC/SKU: 80887496318