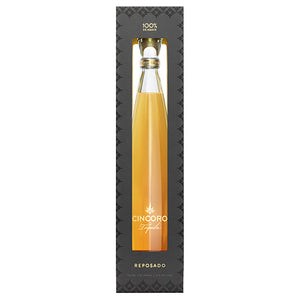 Cincoro Reposado Tequila 750mL
A special project from basketball legend, billionaire, and owner of the Charlotte Hornets, Michael Jordan, Lakers co-owner Jeanie Buss, Milwaukee Bucks co-owner Wes Edens and Celtics co-owner Wyc Grousbeck and Emilia Fazzalari, Cincoro Tequila is made from a celebrated blend of both valley, and highland agaves.
Cincoro Reposado gains its remarkable aromas and taste from a very unique aging regimen. Our barrels are imported from Kentucky, and were first used to age Bourbon. By aging Cincoro Blanco in these barrels, we highlight the smoothness of our Blanco, complimented by wood notes from aging 8-10 months in an underground cellar, considerably longer than the minimum 2 months required for Reposado. On the nose Cincoro Reposado has amazing notes of vanilla, baking spices, and toasted oak. On the palate, sweet cooked agave, caramel, white chocolate.
UPC/SKU:  850008649035