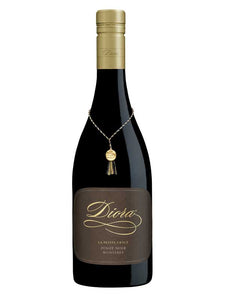 Diora La Petite Grace Pinot Noir 750mL   WE90 Points-Wine Enthusiast
Dark ruby in the glass, aromas of dark cherries and raspberry mingle with nuances of licorice. Soft and velvety, robust with a voluptuous and full-bodied mouthfeel, the palate unfolds with decadent layers of intense chocolate-covered dark red cherries, and a delicate hint of wild sage. A long, lingering finish instills a lasting impression of rich, concentrated flavors.
Richly flavored and full-bodied, this Pinot Noir does not shy away from heartier fare. Serve with a dry-rubbed porterhouse steak, roast duck – the pairings are endless.
WE90 Points-Wine Enthusiast
This is a rich style of Pinot Noir, beginning with aromas of dark plum, black cherry, cola, root beer and nutmeg on the nose. It's quite opulent on the palate, with baked fig and fruitcake flavors, as polished tannins and fine acidity pump into the long, vanilla-fueled finish.
UPC/SKU: 082242013079