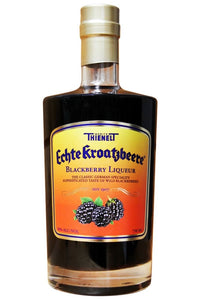 Echte Kroatzbeere Blackberry Liquor 750mL 
The Classic German Speciality. Sophisticated Taste of Wild Blackberries. Produced in Switzerland using Authentic German Recipe.
A true classic for connoisseurs, Thienelt Echte Kroatzbeere is a wild blackberry liqueur that has delighted countless palates for around 100 years.
The secret of its success is an exciting original recipe, based on the pure juice of aromatic wild forest blackberries. Ruby red in color, this fine liqueur specialty has a wonderful fruity, bitter note.
A must in any well-stacked bar, it is a drink of unlimited versatility, which can be enjoyed neat, chilled, on the rocks, and of course as a delicious "kick" in numerous mixed drinks. It can also add that "something special" to gourmet foods and desserts.
UPC/SKU:080368001222