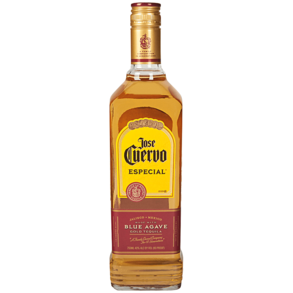 Jose Cuervo Especial Gold Tequila 750 mL
The #1 tequila brand in the world, Jose Cuervo Especial® Gold is a golden blend of reposado and younger tequilas. Its light gold color and sweet aroma has pleasant agave notes. With a sweet, subtle agave flavor and hints of oak and vanilla, Especial® Gold boasts a well-balanced, short, smooth finish. (40% ABV-80 proof)• In history and today, Jose Cuervo® Especial is the popular choice for crafting any Margarita: frozen or on the rocks. Jose Cuervo® knows how to craft tequila.World's #1 tequila brand. Blended tequila (reposado & younger). Sweet agave & oak, vanilla flavor. Color: Light gold hueAroma: Sweet, with pleasant agave notesFlavor: Sweet, subtle agave, hint of oak and vanillaFinish: Well-balanced, short and smooth
Ingredients:
Ingredients: Blue Agave.
 In 1795, the King of Spain granted José Antonio de Cuervo the first concession ever to produce Tequila commercially. This singular event marked the birth of Tequila. Today, Jose Cuervo Especial® Gold is the No. 1 selling Tequila in the world. The Jose Cuervo® recipe and process has been passed down and upheld by a family of entrepreneurs, inventors, and risk-takers. It is no wonder why Jose Cuervo® is the most awarded family of Tequila in history.  Jose Cuervo Gold is a signature blend of reposado and younger tequilas created to make the perfect margarita or enjoyed as a shot

Legend has it that Cuervo® Gold was used to make the first ever Margarita. The result is a well-balanced, smooth Tequila that makes the perfect Margarita, frozen or on the rocks.
UPC/SKU: 811538010832