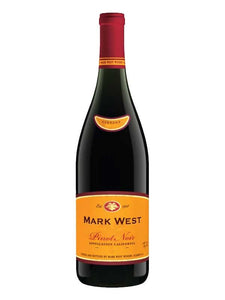 Mark West Pinot Noir  750mL
WINEMAKING NOTES
Mark West Winery's goal is to craft wines that consistently deliver enticing aromatics, a rich supple mouth feel, and classical varietal characteristics. Their goal is to combine outstanding value and style in every wine they produce. The original. Medium-bodied with black cherry, cola, strawberry, plum, and soft tannins. No wonder this Pinot is a favorite.
We selected grapes from vineyards in the finest cool-climate regions of California in order to bring you a balanced fruit-forward Pinot Noir. After early morning harvesting, we gently crush and destem the fruit. We then ferment it in small stainless steel tanks, with daily punch-downs and pump-overs...basically, that's what we do to help get the great flavor and color you love. After a light pressing, we age the wine with French oak, then we blend it, bottle it, and you enjoy it.
PAIRS PERFECTLY WITH
Pastas with light tomato-based sauces, a juicy cheeseburger, grilled salmon, roasted pork tenderloin, or if you're not a cook, drink it on its own.
UPC/SKU: 851718000048