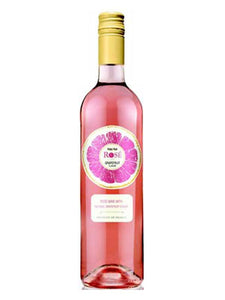 Ruby Red Rosé with Grapefruit 750mL
Wonderfully Delicious & Refreshing!
 Ruby Red Rose is a uniquely crafted rosé wine from France infused with subtle grapefruit flavors. Grapefruit Wine Is France's Latest Obsession! In fact, mixing dry wine with fresh fruit juice is an old French tradition born in the South of France. Ruby Red is lighter in alcohol than wine or a traditional mixed drink and was created to be sipped all day long while enjoying in the sunshine.
Tasting Notes
With a youthful pink hue, the beautiful grapefruit bouquet jumps from the glass followed by a thirst-quenching explosion of juicy fruits with an elegant touch of sweetness and a refreshing grapefruit finish.
Perfect as an aperitif or alongside casual fare. Great with spicy and exotic flavored dishes or as fun refreshment after a meal.
Blended with 80% French Rose and 20% natural Ruby Red grapefruit juice, wonderfully delicious and refreshing. Serve chilled for a wonderful summer cocktail that will be a hit at your next poolside party or day at the beach!
UPC/SKU: 015643422850