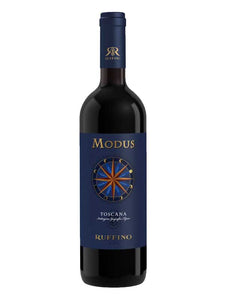 Ruffino Modus Toscana 2017 750mL   JS92 Points-James Suckling,  RP91 Points-Robert Parker's Wine Advocate
 Ruby red. Intense and intriguing on the nose, initial aromas of mature red and black fruits, such as cherries, plums, and small black berries, typical of Sangiovese, are complemented by hints of spices, sweet tobacco, and refined balsamic notes.Tasting profile: Full bodied with a modern Super Tuscan style, this wine is rich with silky tannins and flavors of mature blackberry fruit and cocoa. Vibrant fresh fruit flavors from the Sangiovese, Cabernet Sauvignon, and Merlot weave together with finesse, each adding its own distinctive character.
Modus is wonderful on its own, or serve it with bold dishes such as duck with olives and pancetta, beef-stuffed manicotti with Bolognese sauce, and aged cheeses including taleggio, pecorino and gouda.
Blend: 34% Sangiovese, 33% Cabernet Sauvignon, 33% Merlot
A rich, layered red with lots of plum, chocolate and walnut character. It's full-bodied with chewy yet soft tannins. Flavorful finish. Drink or hold.
A blend of Sangiovese, Merlot and Cabernet Sauvignon (almost in equal parts), the barrique-aged Ruffino 2017 Modus is soft, rich, modern and fruit-forward. The wine adopts a familiar blueprint as a blended red from sunny Tuscany that joins the forces of its indigenous and international grapes. You get terrific value and a fundamentally versatile Italian wine that could pair with local or international dishes. This is the ultimate all-rounder. 
UPC/SKU: 83085903053