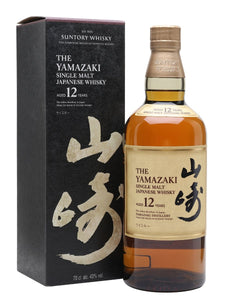 Suntory Yamazaki 12 Year Old Japanese Single Malt Whisky Scotch 750mL      WH93-Whisky Advocate,  WE90-Wine Enthusiast
Yamazaki® Whisky is Suntory's flagship single malt whisky, from Japan's first and oldest malt distillery, multi-layered with fruit and Mizunara oak aromas.
Spiritual and deep, made at Yamazaki Distillery, the soulplace of Japanese whisky, its signature multi-layered taste is highly praised by whisky connoisseurs all over the world. Today, Suntory Single Malt Whisky Yamazaki® Whisky is not only the No.1 single malt whisky in Japan, but is enjoyed in more than 35 countries.
The first thing you notice is the elegant fragrance of lychee, spring blossoms, lily, rosewater, and raspberry meringue. Deeper in, grassy notes with star fruit, kumquat, and kaffir lime leaves. The flavors offer perfection in their simplicity: silky honey, soft spices, crystalized pineapple, barley sugar, lemon, and orange. On the finish, the spices chatter on and on as the sweet citrus and honey fade in and out. One to cherish.
Smokiness is the defining characteristic of this golden single malt. The aroma is distinctly fruity, mixing fresh apple and tropical fruit with a touch of vanilla. But from the first sip, it's all about the smoke, with just a little bit of fruit peeking through to the spicy, slightly hot finish.

Succulent with soft fruit.
Color: Pure Gold
Nose: Peach, pineapple, grapefruit, clove, candied orange, vanilla, Mizunara (Japanese oak)
Palate: Coconut, cranberry, butter
Finish: Sweet ginger, cinnamon, long finish
UPC/SKU: 88857001616